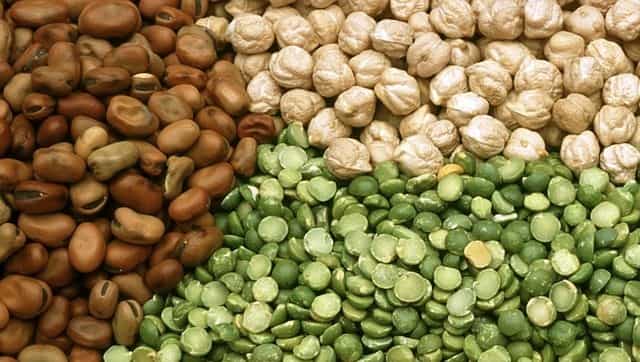 Why banning the trade in derivative products is like throwing a baby out with the bathwater
In the absence of a futures market, farmers will be forced to sell their produce on the spot market at the going price, which may be lower than their expected price.
Legumes. Image courtesy of CSIRO / Wikimedia Commons
Last week, the market regulator Securities and Exchange Board of India (SEBI) issued instructions to suspend trading in futures and options contracts on certain agricultural products, including paddy (non-basmati), wheat, chana, mustard seeds and its derivatives, soybeans and their derivatives, crude palm oil and moong. The suspension takes effect immediately, presumably in response to rising food prices, and the instructions are effective for one year.
Such a scenario raises two preliminary questions: what is the role of trade in derivatives in inflation? And what are the implications of such a sudden suspension in commodity derivatives markets?
Commodity exchanges provide trading platforms for commodity derivative contracts that can help commodity value chain players hedge their price risk, in addition to providing uncovered price signals transparently. . Globally, dynamic exchange-traded commodity derivatives markets have proven to facilitate effective price risk management processes for over 170 years, since the inception of the Chicago Board of Trade (CBOT) in mid-January. 19e century.
Although the Indian commodity futures market has a similar long history with the launch of the Bombay Cotton Exchange in 1875, it is subject to frequent bans on agricultural products. As a result, the development and scope of the commodity futures market is still nascent, especially in the case of agricultural commodities with limited development of necessary infrastructure such as warehousing, analysis, quality testing, etc.
The latest ban came after the wholesale price index jumped 14.2%, while consumer price inflation for edible oils and fats crossed 29% in November 2021, is mainly due to supply issues of global and national scenarios.
Domestic edible oil derivatives are seen as one of the success stories of agricultural commodity derivatives contracts, providing hedging opportunities and transparent price signals in line with changing global price scenarios of international stock exchanges. benchmarks such as CBOT (CME) for soybeans and derivatives, Bursa Malaysia Derivatives Exchange (BMD) for palm oil, etc., while reflecting the domestic supply and demand scenario. In addition, past experiences and available evidence suggest that banning futures trading has little or no impact on physical market prices and inflation.
In this regard, the report of the committee chaired by Professor Abhijit Sen, established in 2007 to study the extent of the impact of futures trading on the wholesale and retail prices of agricultural products, found no evidence to suggest that futures trading was responsible for inflation.
Commodity futures are market instruments for achieving price discovery, market price stabilization and can be used as price insurance for farmers. Our economy is agricultural and the fluctuation of prices during the harvest period has always been a major concern for the farming community. The only policy instrument to insure farmers' price risk during the harvest period is the Minimum Support Price (MSP) in the event that free market prices fall below the MSP. However, the scope of MSP sourcing is limited to a few commodities such as paddy and wheat and is also effectively implemented in only a handful of states. Farmers are exposed to price risk for the remaining 21 crops for which the MSP is announced, but there are no broader procurement operations by the government.
Futures trading, if widely used by farmers to hedge their price risk, can act as an effective instrument to mitigate price risk and act as a price insurance mechanism.
But, the recent ban on futures trading by regulators is tantamount to throwing out the baby with the bathwater – instead of creating the atmosphere to encourage wider participation of smallholder farmers by promoting and linking farmer businesses to farmers. commodity futures markets to hedge their price risk and use them as a price insurance instrument. Such frequent suspensions hamper the healthy growth of these markets, disrupting the development of necessary infrastructure and support services such as warehousing, testing, quality testing and standardization, financing, etc.
However, a wider participation of farmers will take time and effort, which requires a lot of patience and encouragement on the part of the farmers and the futures markets towards a healthy futures market so that the futures markets contribute to a better discovery of prices and hedging instruments for farmers.
In the absence of a futures market, farmers will be forced to sell their produce on the spot market at the going price, which may be lower than their expected price. Alternatively, they have to store their produce and expect a higher price at a later time, which usually exceeds the capacity of small farmers to keep the produce for such a long period of time that they have to spend on the next harvest and cover the expenses of the crop. housework. .
Therefore, instead of arbitrarily prohibiting, the government should align the development of futures markets with ongoing government programs such as the formation and promotion of 10,000 new agricultural producer organizations (OPAs) to achieve the dual objective of 'better price discovery and price risk insurance for farmers.
The author is Senior Scientist (Agricultural Economics) ICAR-Center Research Institute for Dryland Agriculture, Hyderabad. The opinions expressed are personal.
Read all Recent news, New Trends, Cricket news, Bollywood News,
India News and Entertainment News here. Follow us on Facebook, Twitter and Instagram.