 The ETF portfolio strategist: small caps and commodities continue to outperform
Pooling of small cap stocks and commodities
Otherwise, it was a failure for our Global ETF opportunity set globally for the trading week until Friday October 1st. For more details on all the strategies and measures in the tables, see this summary.
Despite a new wave of political unrest in Washington, small-cap stocks continued to advance, rising 0.9% for the week. The gain marked the third consecutive weekly gain. Are small caps coming out of their recent funk? Perhaps, although we are still a bit skeptical as the rally of recent times has only lifted the iShares Core S&P Small-Cap (NYSE 🙂 ETF into the upper range of its trading history for 2021 to this day.
But the relative value with small caps has attracted attention in some corners. Kiplinger's said this week that "small caps offer unmistakable value," citing Morningstar data which showed these stocks were trading at a respectable discount via the average price-to-earnings ratio to large stocks – 16 to 22.
Meanwhile, commodities enjoyed another weekly gain. The even-weighted WisdomTree Continuous Commodity Index Fund (NYSE 🙂 rose 0.8%, closing the week near the highest level in two months. The sparkling news about inflation kept prices in this buoyant corner. One of the Federal Reserve's favorite inflation measures, accelerated in August, increasing 4.3% year-on-year, the fastest pace in 30 years!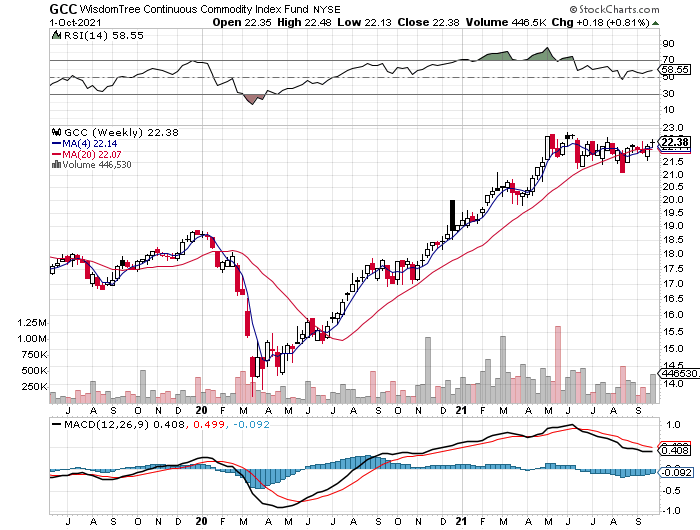 US stocks in general, on the other hand, looked wobbly in recent days. Vanguard Total Stock Market Index Fund ETF Shares (NYSE 🙂 fell 2.0% last week. We've been here before, but the last drop in recent weeks was the deepest and longest this year. Part of the weakness was likely due to uncertainty in Washington over the timely infrastructure bill.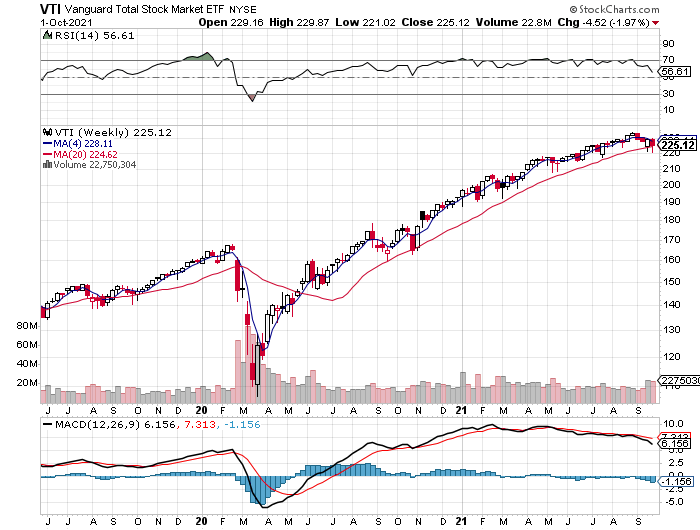 US bonds, on the other hand, looked increasingly bearish. The iShares 7-10 Year Treasury Bond (NYSE 🙂 ETF has collapsed for a sixth week. If inflation data remains strong, Treasury yields will likely rise further and the IEF will remain on the defensive.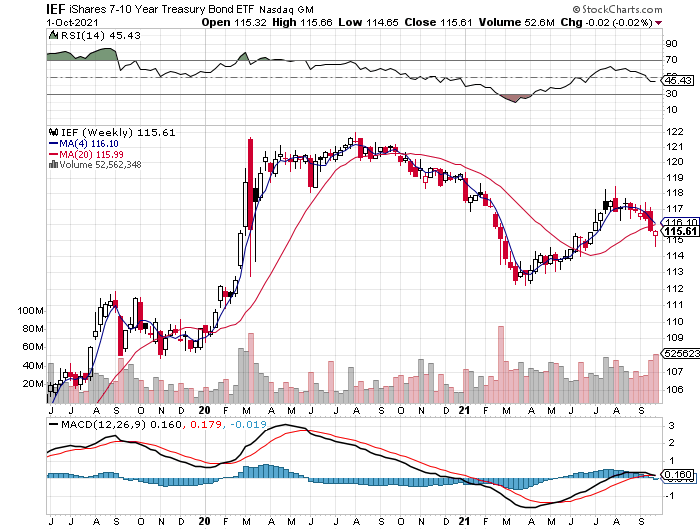 The biggest loser of our global opportunity set this week: stocks in Japan. The iShares MSCI Japan ETF (NYSE 🙂 fell 3.8%. Part of the loss was linked to difficult macroeconomic conditions for Japan, but political factors played a role.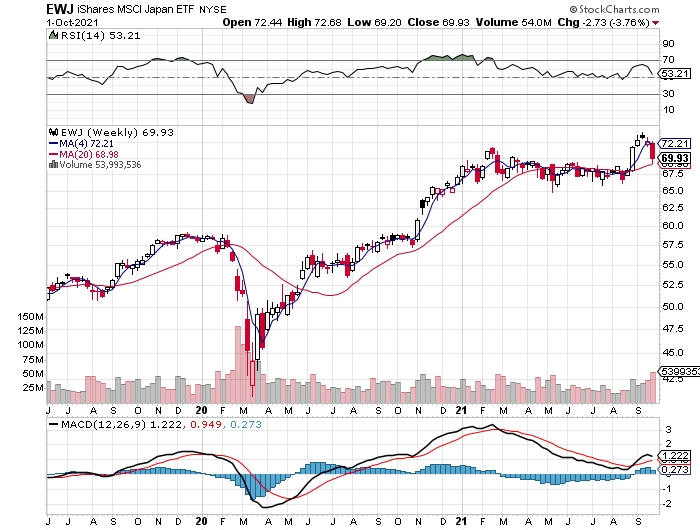 Recall that EWJ jumped a few weeks ago when Prime Minister Yoshihide Suga stepped down, which sparked a strong recovery, presumably due to expectations that his replacement would usher in a new period of pro-growth policies. But like I did a month ago, "until it's clear who's going to run the show (and we're a long way from clarity on that front), today's jump looks like a short-term speculative movement. "
It was then. Last week we learned that a pillar of the party, Fumio Kishida, would become the new prime minister. But it's fair to say that the market is skeptical that the country is about to embark on new economic dynamics.
Overall losses for strategic benchmarks
With red ink dominating most markets last week, there was no place to hide for the benchmarks in our portfolio. Losses ranged from 0.7% for the equal-weighted Global Beta 5 EW (G.B5.ew) to a much steeper weekly decline of 1.7% for the more granular allocation of the Global Market Index (GMI) .
When the dust cleared, G.B5.ew has remained far ahead since the start of the year.