Dundee Precious Metals stock: Extraordinary value opportunity (OTCMKTS: DPMLF)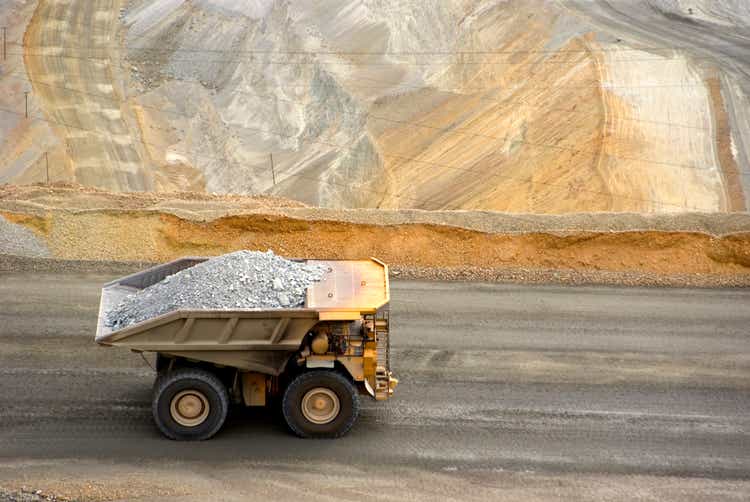 Dundee Precious Metals stock: Extraordinary value opportunity (OTCMKTS: DPMLF)
Dundee Precious Metals Inc. (DPM-TSE/OTCPK:DPMLF) – Dundee Precious Metals (DPM) is a Canada-based international gold mining company engaged in the acquisition of mineral properties, exploration, development, mining and processing of precious metals. DPM and DPMLF tickers trade on the Toronto Stock Exchange in Canada and OTC in the United States, respectively. All amounts in this note are in US dollars. DPM represented 8.2% of the portfolio as of June 30, 2022.
The main subsidiaries of DPM are as follows:
100% of Dundee Precious Metals Chelopech, which owns and operates a gold, copper and silver mine located in Bulgaria;
100% of Dundee Precious Metals Krumovgrad ("Ada Tepe"), which owns and operates a gold mine located in Bulgaria;
92% of Dundee Precious Metals Tsumeb Limited, which owns and operates a toll foundry located in Tsumeb, Namibia.
DPM holds interests in a number of exploration and development properties located in Ecuador, Serbia and Canada, including:
100% of DPM Ecuador SA, which focuses on the exploration and development of the Loma Larga gold project located in Ecuador;
100% of DPM Avala doo, which focuses on the exploration and development of the Timok gold project in Serbia;
6.7% of Sabina Gold and Silver Corp. ("Sabina"), which focuses on the development of the Back River Project in southwestern Nunavut, Canada.
The company said its smelter, one of the only smelters in the world capable of processing high arsenic concentrate without premixing, is not a core asset and is available for sale at the right price. The smelter was purchased for $50 million and DPM invested over $300 million to turn it into a premier smelter. We value the smelter at one third of its capital cost.
Financial Highlights
DPM is in a very solid financial situation. As of March 31, 2022, it had $382 million in cash, a liquid investment portfolio of $50 million, and no debt. DPM generated $252 million of free cash flow ("FCF") for the year ended December 31, 2021 and $52 million of free cash flow during the first quarter of 2022. The 2021 free cash flow represents a 44% return on enterprise value ("EV", defined as market capitalization less net cash) as of June 30, 2022.
DPM has a cash-rich balance sheet, similar to that of Fort Knox, and is also expected to continue to be a strong cash generator over the next few years. The company estimates that its all-in sustaining costs (cost of operating a mine and cost of bringing production to market) will decrease by 10% to 20% in 2023 and 2024.
DPM recently increased its quarterly dividend from $0.03/share to $0.04/share, a yield of 3.5%. The company repurchased $11 million in shares in 2021 and $9 million in the first quarter of 2022.
Production results and tips
Chelopech delivered strong performance in Q2 2022, producing 49,200 ounces of gold and 8.8 million pounds of copper, benefiting from higher gold grades and recoveries. Chelopech and Ada Tepe are on track to meet 2022 guidance, with gold grades expected to increase in the fourth quarter in line with the mine plan, which is summarized below.
The following compares actual 2021 production results to management's 2022 forecast and 2023/2024 outlook. Management estimates a gold price of $1,700/oz for its outlook.
| | | | | |
| --- | --- | --- | --- | --- |
| | 2021 | 2022 | 2023 | 2024 |
| | Real | Guide | Outlook | Outlook |
| Gold ('000oz): | | | | |
| Chelopech | 177 | 169 – 191 | 150 – 170 | 161 – 182 |
| Ada Tepe | 133 | 81 – 89 | 115 – 140 | 69 – 83 |
| Total gold | 310 | 250 – 290 | 265 – 310 | 230 – 265 |
| | | | | |
| Copper (Mlb): | | | | |
| Chelopech | 35 | 32 – 37 | 32 – 39 | 30 – 35 |
The Chelopech mine life extends to 2030. Ada Tepe production is expected to decline in 2024 and beyond. DPM has two major projects underway to increase future production. The first project is Loma Larga, located in Ecuador. The second is Timok Gold, located in Serbia.
Loma Larga gold project
In the third quarter of 2021, DPM completed the acquisition of the high quality Loma Larga gold project in Ecuador. The project adds approximately 2.2 million ounces of gold, 88 million pounds of copper and 13 million ounces of silver to reserves. The current 12-year life-of-mine plan outlines an average annual mine production of approximately 200,000 ounces of gold over the first five years with an average annual life-of-mine production of 172 000 oz. The initial capital should be 316 million dollars. Production is expected to start in 2025.
On February 21, 2022, DPM suspended drilling activities following the filing of the action with the Constitutional Judge of the Labor Judicial Unit of Cuenca (the "Court"). The Court ordered the suspension of the environmental permit required for ongoing exploration and technical drilling pending the hearing of the Action.
On July 12, 2022, the DPM announced that an oral decision on the Constitutional Protection Action filed against the Ministry of the Environment, Water and Ecological Transition ("MAATE") was rendered by the Court . The ruling upheld the validity of the company's environmental permits for exploration at Loma Larga, confirmed that MAATE did not violate certain water and nature protection rights in granting the permits, and reaffirmed DPM's mining concessions for Loma Larga.
In short, the Ecuadorian mine appears to be a prime asset, but with some political hurdles ahead of it. Fortunately, the company hasn't committed a lot of capital and can exit the project at any time if it determines it would be in the best interests of shareholders. We see it as a wonderful option with maybe a 60-70% chance of moving forward after July 12.e decision.
Timok
Studies to upgrade the Potaj Čuka-Tisnica exploration permit to a mining concession are ongoing, with exploration activities focusing on the nearby Umka exploration permit as well as other licenses at a early stage in Serbia. Production is expected to begin in 2026. Initial capital is estimated at $211 million. The company estimates that 547,000 ounces of gold have been recovered over an eight-year lifespan, with annual gold production estimated to average around 80,000 ounces per year in years 1-6 and around 70 000 ounces per year over the life of mine. Production is currently expected to begin in 2026.
Main risks
Commodity prices are one of the primary determinants of the Company's results of operations and financial condition. DPM's revenues will fluctuate up or down depending on the price of gold and copper. DPM costs are impacted by the price of energy.
Regulatory risk – see previous discussion on legal challenges in Ecuador.
Capital Risk – As noted above, significant capital will be required to bring the Ecuador and Serbia projects into production. The company estimates that its cash balance will reach approximately $550 million by the time capital is needed to construct these mines and therefore it will have sufficient liquidity and cash flow to fund any development from internal sources. .
Other topics
Russia's invasion of Ukraine is putting further pressure on the global supply chain and adding further pressure on prices beyond what was previously attributable to the coronavirus. The Company's Chelopech and Ada Tepe mines are located in Bulgaria. Bulgaria does not share a border with Russia or Ukraine and is part of the NATO and EU alliances. Bulgaria's main sources of electrical energy are nuclear and coal-fired facilities, which together account for around 80% of Bulgaria's total energy production. Although Russia recently announced that it was suspending natural gas deliveries to Bulgaria, only around 5% of Bulgaria's total energy supply is generated from natural gas. Consequently, DPM does not anticipate any interruption in the power supply to its mines.
Conclusion
As with past investments in this sector, our investment in DPM is not based on the direction of gold prices and does not assume an increase in gold prices for our thesis to work. The significant Chelopech mine life extends to 2030. The 2022 production forecast and 2023/2024 production outlook are quite attractive even before new production from Loma Larga and Timok comes online . DPM is conservatively managed and has a fortress balance sheet. With a large cash balance of $382 million (40% of its $953 million market capitalization), no debt, $50 million in marketable securities, abundant free cash flow generation and very attractive assets ( producing and developing mines and smelter), we believe that DPM is significantly undervalued.
Sum of parts analysis:
Price $4.75
O/S 191mm
Market cap $907 million
Debt $0
Cash $382
EV $525
Investments @
50% of fair value $25
Adjusted EV $500 mm
Free movement of capital:
FCF '20 (real)

$211 million

FCF '21 (real)

252mm

FCF '22 estimated

$180 million

Yield FCF '20 on Adj EV

42%

FCF '21 yield on Adj EV

50%

FCF '22 estimated return on Adj EV

36%
Assuming a 10% FCF return on EV and adding cash, 50% investments and $100 million for the smelter, this implies an estimated value of $12/share, an increase of about 140% relative to the price as of June 30, 2022. the company's production and cost outlook, we estimate 2022 FCF at $180 million. The result is an FCF over EV yield of 36%.
In fact, the FCF for the last two years of DPM is 92% of the adjusted EV as of June 30, 2022. Although this free cash flow is not perpetual since the mines have defined lifespans, we do recoup our investment in less than three years, an extraordinary value proposition in our opinion, and therefore why it represents over 8% assets of our fund. As noted above, Chelopech, which actually started production in 1954, is expected to produce until 2030 and has real opportunities for reinvestment. Finally, DPM is rated "A" by MSCI, an independent ESG rating agency, and is part of the 91st percentile in the S&P 2021 Corporate Sustainability Assessment Report.