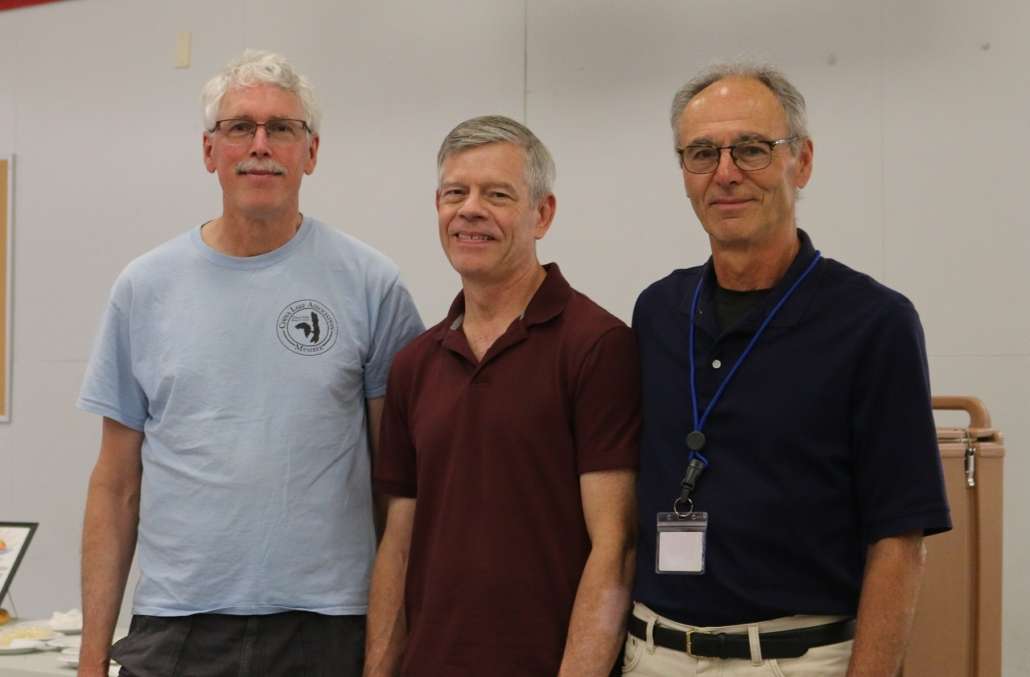 CLA Annual Meeting Celebrates 50 Years of the Clean Water Act
by Jeanne Marquis
The annual meeting of the China Lake Association (CLA) was held on Saturday morning, July 30, 2022, at China Middle School on Lakeview Drive, China, Maine. The reunion was both a celebration of the return of alewife to China Lake and a tribute to the 50th anniversary of the Clean Water Act.
Senator Susan Collins, Senator Angus King and Congresswoman Chellie Pingree sent video statements to the annual meeting commending the association's positive impact on China Lake and supporting future work to maintain the quality of the 'water. Senator Collins said maintaining freshwater lakes like China Lake is an important investment in our future. Senator King mentioned the connection the Muskie family had personally with China Lake which had a camp on its shore.
Pingree said: "It was our fellow Mainer, Senator Ed Muskie, who wrote the drinking water law half a century ago. Since then, he has been directly responsible for restoring and maintaining waters across the country, including right here at China Lake. Senator Muskie would be proud to see the progress you all have made at the China Lake Association to restore and protect lake water to continue to implement the provisions of the Clean Water Act.
China Lake's annual water quality report was presented by Robbie Bickford, Kennebec Water District (KWD) Water Quality Manager. According to Bickford, "Test results indicate that China Lake maintains a stable condition with a slight improvement in water quality over the past 10 years." The full report can be found in the KWD newsletter which can be viewed here at ChinaLakeAssociation.org.
Bickford also provided updates on two Kennebec Water District projects completed last year that are underway to protect water quality. KWD, with the help of a grant from Project Canopy, reforested six acres on land purchased by KWD in the early 1900s. Working with residents of this area, KWD planted approximately 6,000 small seedlings with a mixture black spruce, red spruce and red pine. In the fall of 2021, KWD developed a harvest plan in conjunction with a forest management plan. The goal is to achieve a mixed-age, multi-species stand on all KWD lands to maintain sustainable erosion control. KWD has postponed last winter's harvest to winter 2023 due to hot conditions. Bickford explained that ideally the ground should be frozen during harvest to avoid disturbing the ground as much as possible.
The Annual Loon Count was presented by CLA Board Member Bob O'Connor. O' Connor mentioned that he had been counting loons on China Lake for 33 years, a third of a century. He was happy to report that the number had increased from 25 to 34. O'Connor announced another loon project underway to help increase the loon population.
Karen McNeil, wildlife ecology undergraduate student and intern for Maine Lakes, briefly presented information on the loon restoration project. This project aims to increase loon productivity while decreasing mortality by installing nesting rafts in ideal locations. CLA Board Member Bill Powell is leading this initiative for CLA and plans to launch an artificial nesting raft on China Lake next year. They are looking for more volunteers to build and monitor the raft for signs of nesting and chicks. Contact the CCA for more information on how to get involved.
Landis Hudson, Executive Director of Maine Rivers, gave an upbeat presentation on the completion of alewife restoration at China Lake and what it means for the regional ecology. The nearly decade-long project was spearheaded by the nonprofit Maine Rivers, in conjunction with the cities of China and Vassalboro, Maine Department of Marine Resources, Kennebec Water District, Sebasticook Regional Land Trust and the region of China. Alliance of the Lakes. The China Lake Alewife Restoration Initiative hopes to restore the balance of wildlife in water, air and land that existed before the dams were built centuries ago by restoring the passage of alewife. For the first time since 1783, gaspereaux are making the ocean journey across the Kennebec River to China Lake to spawn. Nate Gray, a scientist with the Maine Department of Marine Resources, made a fish counter to get the first counts. The number of alewife passing through the Box Mill Dam fishways met expectations.
Eric Lind, Vice President of CLA, spoke about the China Lake Watershed Based Management Plan (WBMP) 2022-2031. The plan outlines management strategies and a 10-year schedule of milestones to increase efforts to reduce external phosphorus loading by addressing existing non-point source (NPS) pollution throughout the watershed and limiting new sources of phosphorus from future development and climate change. The plan significantly reduces internal phosphorus loading through inactivation of phosphorus in lake bottom sediments, and monitors and evaluates improvements in China Lake water quality over time.
The 2022 launch of the WBMP is the culmination of a two-year comprehensive watershed survey, conducted with the help of CLA volunteers in partnership with the Maine Department of Environmental Protection (DEP) and technical managers. The study identified sources of pollution, which included an assessment of gravel roads and developed properties in the watershed. Information from the survey was used in the China Lake 10-Year Watershed Management Plan; the plan will help CLA qualify for federal grants under the Clean Water Act. The China Lake watershed-based management plan is available on the CLA website.
Why is a watershed management plan important? As reported on August 5, 2022, in the morning sentry and the Kennebec Diary, North Pond in Smithfield, Belgrade area is experiencing an extreme algae bloom that has reduced water clarity to just four feet. The state Department of Environmental Protection advises people to limit prolonged exposure to green pea soup water and not to expose themselves to it when water clarity does not reach only three feet. There was no watershed management plan in place for North Pond. The North Pond Association recently received a grant to establish a plan.
The final speaker at the CLA annual meeting was Judy Stone, a professor at Colby College and owner of the LakeSmart Award, who discussed forests, buffer zones and water quality. Stone provided homeowners with sound advice on maintaining a diverse tree canopy and permeable ground foliage to capture and filter stormwater.
The meeting ended with a strong vote of confidence for the re-election of the current leadership team: President Stephen Greene, Vice President Eric Lind, Secretary David Preston. An opening exists for a Treasurer to replace retired Treasurer Elaine Philbrook. The Board of Directors includes Robbie Bickford, Wayne Clark, Bruce Fitzgerald, Marie Michaud, Bob O'Connor and Bill Powell, all of whom serve with the leaders as volunteers to manage the company and direct the affairs of CLA.
The China Lake Association stands for "Preserving China Lake for future generations through environmental stewardship and community action". CLA officers and directors hold monthly meetings to stimulate the growth and development of the organization. Stephen Greene invites those interested to attend. Contact him at [email protected] to attend board meetings, get more involved, or discuss your thoughts on CLA.
Responsible journalism is hard work!
It's also expensive!
If you enjoy reading The Town Line and the good news we bring you every week, would you consider making a donation to help us continue the work we do?
The Town Line is a private 501(c)(3) non-profit foundation and all donations are tax deductible under the Internal Revenue Service code.
To help you, visit our website donation page or send a check payable to The Town Line, PO Box 89, South China, ME 04358. Your contribution is appreciated!